Mobility Forward: Tri-Valley Paratransit Study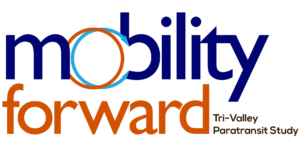 The Livermore Amador Valley Transit Authority (LAVTA), in partnership with the City of Pleasanton, is conducting a study of paratransit and senior transportation services throughout the Tri-Valley.  This important study will help define how paratransit investments should be made in the coming years in order to prepare for future growth, and will focus on improving paratransit services for older adults, as well as people with disabilities living in the Tri-Valley. Paratransit services are currently provided by LAVTA/Wheels and the City of Pleasanton, and the agencies have created this partnership to ensure Tri-Valley residents continue to have access to services and other amenities, especially a the population of older adults grows.
Community Survey 
The study will incorporate feedback from both riders and non riders of existing paratransit and senior transportation services. As part of the study, known as Mobility Forward, residents of Dublin, Livermore, Pleasanton and Sunol — especially older adults and people with disabilities —were invited to complete a survey about travel patterns, and improvements needed for transit access in the Tri-Valley.  Responses will help us identify challenges and some improvements to dial-a-ride and paratransit programs operated by Wheels and the City of Pleasanton.
Public Meetings
There will also be two rounds of public meetings throughout the course of the study. The first meetings took place near the end of June. Please see the following schedule for Fall meetings:
Nov. 15, 2017: 10-12 pm – Dublin Senior Center, 7600 Amador Valley Blvd, Dublin, CA 94568 (special shuttle provided from BART)
Nov. 16, 2017: 10-12 pm – Pleasanton Senior Center, 5353 Sunol Blvd, Pleasanton, CA 94566 (on Route 8)
Nov 16, 2017: 2-4 pm – Livermore Community Center, 4444 East Ave, Livermore, CA 94550 (on Route 30R).
We hope you are able to join us at any of these meetings!
Click here for a printable flyer.