Donations to Wheels "Stuff-A-Bus Bingo" Food Drive Top 2,400 Pounds
The Livermore Amador Valley Transit Authority (LAVTA), operator of the Wheels and Rapid bus services, hosted another "Stuff-A-Bus" holiday food drive on Saturday November 18. The event took place at the Lucky Supermarket in Pleasanton.
Several hundred Tri-Valley residents stopped by to help the Open Heart Kitchen and Tri-Valley Haven stock their food pantries for the holiday season. Individual donations ranged from a single can to hundreds of pounds. The total weight of donated items exceeded 2,400 pounds. In addition, cash and gift card donations totaled over $450.
LAVTA developed a "Stuff-a-Bus Bingo" theme for this year's food drive. Game cards listed the items most in need by the two food banks receiving the donations. Prizes ranged from small promotional items to four pairs of San Jose Sharks tickets, donated by radio station 101.7 KKIQ, which broadcast live from the event.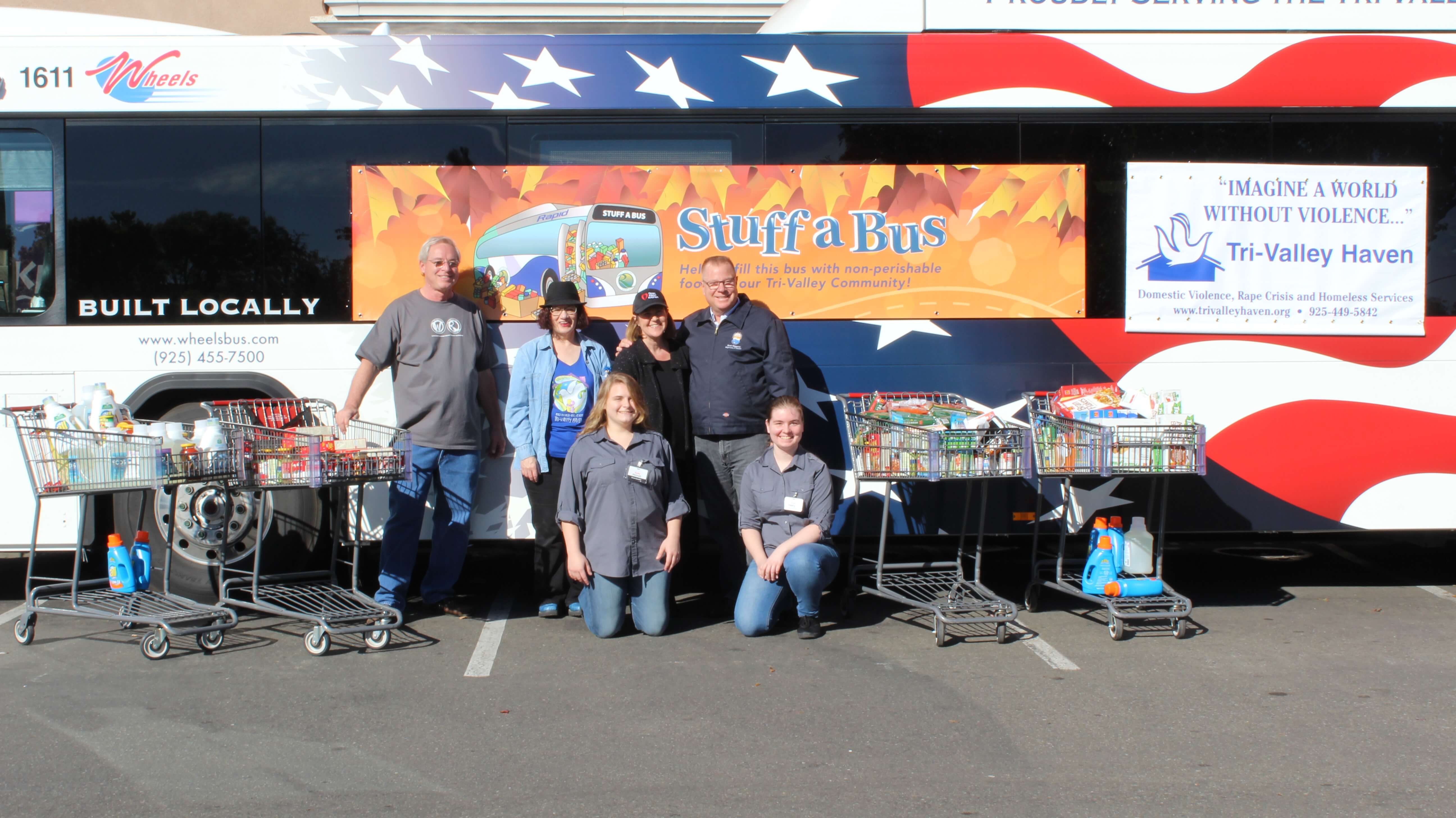 Alameda County Supervisor and LAVTA Board Vice-Chair Scott Haggerty (standing far right) donates four shopping carts full of needed items. Joining Supervisor Haggerty in the photo are (standing l to r): Tony McCaulay, LAVTA Marketing Manager, Ann King, Tri-Valley Haven Executive Director and Clare Gomes, Open Heart Kitchen Operations Manager. Kneeling in the photo are two employees from the Lucky store who assisted Supervisor Haggerty during his shopping trip.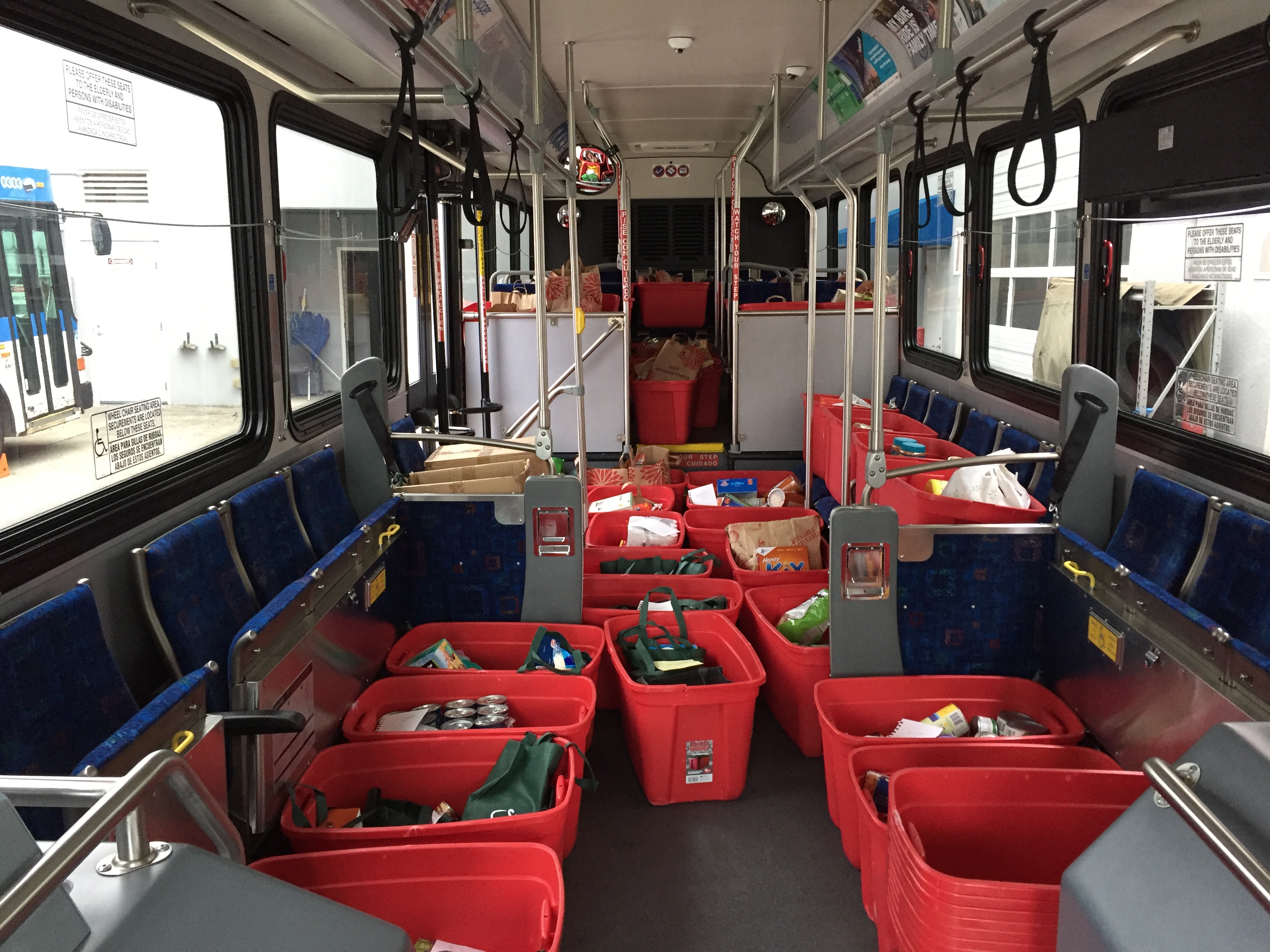 Bus filled with 2,400 pounds of donations.
About the Livermore Amador Valley Transit Authority
The Livermore Amador Valley Transit Authority (LAVTA) was created in 1985 by the cities of Dublin, Livermore and Pleasanton and Alameda County to serve area transit needs. LAVTA serves nearly 2 million passengers a year on our Wheels bus and paratransit services.
LAVTA supports environmental sustainability by reducing vehicle trips and traffic congestion on local streets and improving air quality in the Tri-Valley region. In addition to passenger fares, the agency is supported financially by federal, state and local agencies, including the Alameda County Transportation Commission's Measure B and BB.
Follow LAVTA on Facebook at facebook.com/wheelsbus and on Twitter @wheelsbus or visit our website wheelsbus.com for more information on Wheels bus and paratransit services as well as our Go Dublin! promotion with Uber, Lyft and Desoto Cab and our redesigned bus services offering convenient access to BART stations in the Tri-Valley. Coming soon look for information about our exciting plans for a shared autonomous vehicle demonstration project.