SmartTrips Tri-Valley Program Begins May 2018!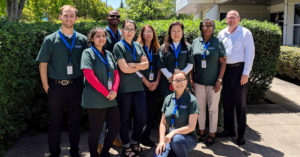 Did you miss our SmartTrips team's visit? If you received our 'Sorry We Missed You' door hanger but would still like to receive personalized transportation resources, fill out our quick participation form here: https://www.surveymonkey.com/r/SmartTripsTri-Valley
The SmartTrips Tri-Valley team is in the neighborhood to help people try new ways of getting around, including riding the bus, carpooling, biking and walking instead of driving alone.
Our team is meeting with residents at their doorstep— and are in the process of visiting 4,000 households in proximity to the Rapid 30R route in Dublin and Livermore.
Taking a personalized door-to-door approach, the SmartTrips team will provide information and incentives for participants including transit schedules, a neighborhood map, a tote bag, and a Clipper Card with loaded value. SmartTrips team members wear a uniform and photo ID and will never ask to enter a resident's household.
This project will be closely monitored to identify the impact on how residents travel.  Similar projects elsewhere have had great success, and typically see reductions in drive-alone travel of 5-15% by residents taking part, helping to tackle local traffic problems and reducing the environmental impacts of car trips.
SmartTrips Tri-Valley is a way to connect communities with rewarding benefits, and it will demonstrate a commitment to transportation choices for everyone. Help spread the word, and look for the SmartTrips team around Tri-Valley!
Questions? Call the SmartTrips Tri-Valley hotline at 925-339-6742 or email us at smarttrips@wheelsbus.com.