Wheels Free Wi-Fi Service
Wheels Bus In Motion Wi-Fi
What would you like to accomplish during your commute? Work emails, homework, catching up on your timeline… now you can with W-Fi In Motion. We've equipped our Rapid and Xpress buses with free wireless internet service. You can now connect to our service using your Wi-Fi enabled device, such as a laptop, tablet or cellphone.
Wi-Fi in Motion wireless service is provided by Verizon.
How to Identify a Wi-Fi Bus
Wi-Fi is available on Wheels Rapid and Xpress buses. You'll know the bus you're riding is Wi-Fi equipped if it has the "Wi-Fi" logo on the front door and Wi-Fi information inside.
How to Connect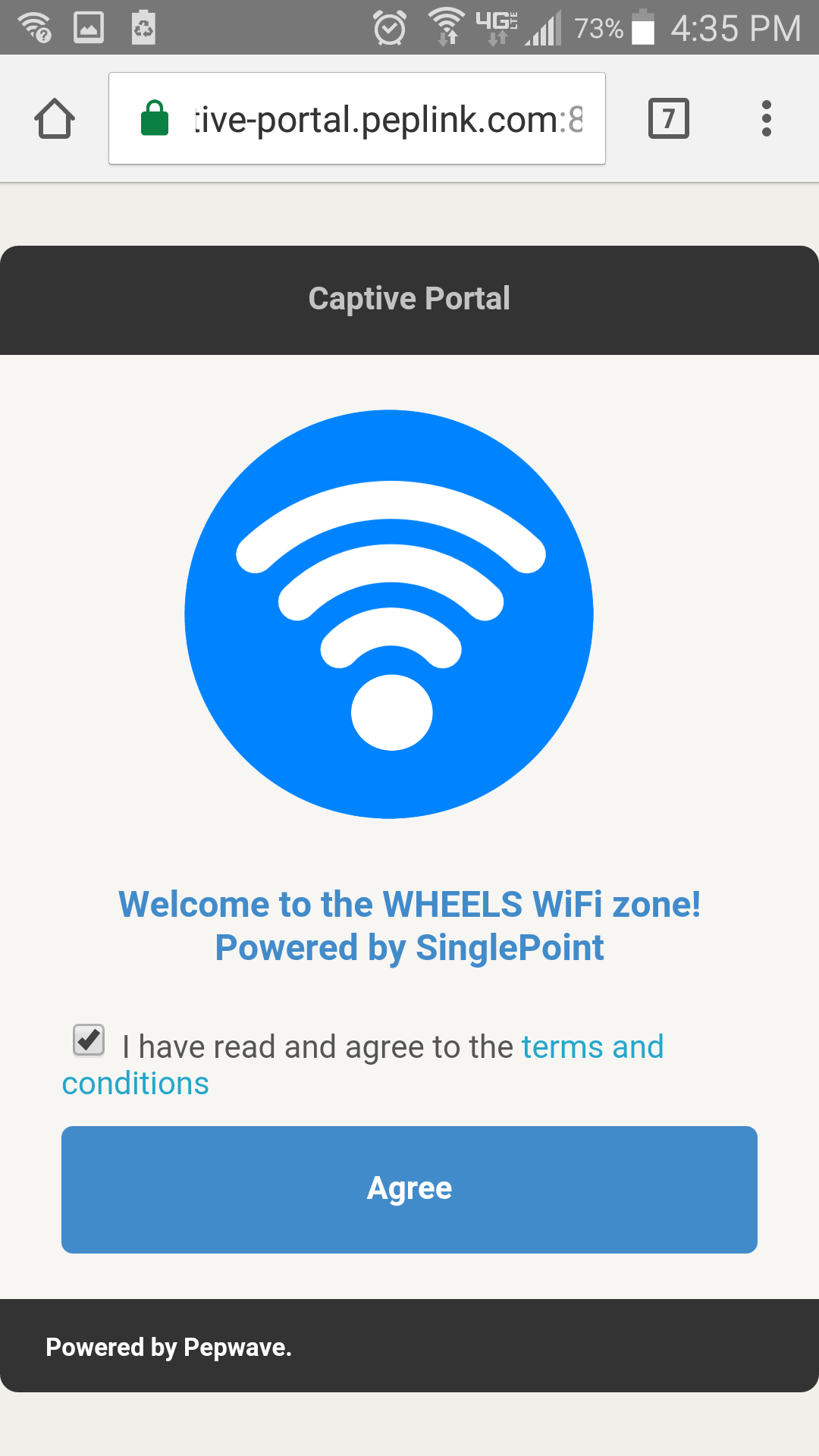 2. Your browser should open and select "I have read the terms and conditions", then push the "Agree" Button
Open your Wi-fi settings and select "Wi-Fi In-Motion"
Your browser should open and select "I have read the terms and conditions", then push the "Agree" Button
On the next page select "Continue Browsing" to finish connecting to the Wi-Fi.
Frequently Asked Questions
Is there a cost to use the service?
No. This is a free service. Please connect to the terms and agreements.
What equipment do I need to use Wi-Fi?
To use the service, your device (laptop, tablet, cell phone) must be Wi-Fi enabled. Both PCs and Macs can be used. Using Wheels Wi-Fi service is similar to connecting with other wireless internet services in cafes, office buildings or other wireless hot spots.
What about bandwidth and network speed?
Wi-Fi service can accommodate basic internet browsing, check and sending e-mails, streaming multi-media, downloads, and file transfers. Due to the characteristics of the cellular network, there may be locations where service is intermittent or unavailable. In addition, overall connection speed may be affected by the number of Wi-Fi users on the bus.
What do I do if I'm having trouble using the service?
If you have tried unsuccessfully to connect to the Internet, or service has been interrupted and you're unable to reconnect, you should report the problem to Wheels by clicking on the Submit Comments button on the www.wheelsbus.com homepage. Please do not ask the bus driver for assistance with your Wi-Fi connection. Bus drivers have not been trained to evaluate and fix Internet related problems.