Public Invited to Ride LAVTA's Shared Autonomous Vehicle
The Livermore Amador Valley Transit Authority (LAVTA) invites the public to take a ride on its Shared Autonomous Vehicle (SAV). The vehicle has completed a comprehensive testing process and has been certified for use on public streets by the National Highway Traffic Safety Administration (NHSTA). Service to the public started on November 16, 2020.
As it progresses, LAVTA's SAV project will improve mobility by providing first- and last-mile solutions for passengers between the East Dublin/Pleasanton BART Station and nearby locations. The vehicle will operate in mixed traffic and its initial route extends just under one mile and includes two stops and one traffic light. The SAV is state-of-the-art, 100% electric, and comes equipped with camera, sensors, and GPS. Though it is a shared autonomous vehicle, a Transdev safety operator will be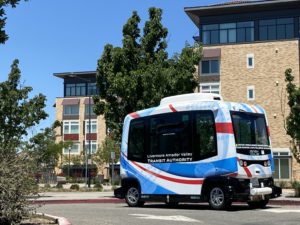 on board at all times.
In order to prioritize public safety during the startup of SAV service to the general public, all passengers will be required to wear a mask or face covering while onboard the vehicle. Also, the number of passengers allowed onboard the vehicle at any given time will be three, plus the safety attendant who will be onboard the vehicle at all times. All vehicle touchpoints will be cleaned and sanitized between trips to ensure health and safety.
Effective Wednesday, July 7, 2021, the SAV will run on every Wednesday, Thursday, and Friday from 10am-5pm. A complete round trip will take approximately 10 minutes. The boarding location is in close proximity to the East Dublin/Pleasanton BART Station as well as LAVTA's bus transfer facility there. Parking is available nearby on Iron Horse Parkway. No reservations are necessary but masks are required while riding the SAV.
Click here to see a short video about the project.
The LAVTA SAV route will serve the area around the East Dublin/Pleasanton BART station. Initially, the vehicle will operate via the route shown on the map below: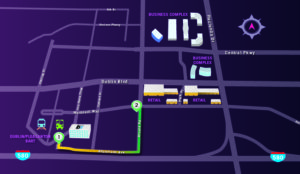 This project is a partnership between LAVTA, the City of Dublin, the Bay Area Air Quality Management District, BART, the Metropolitan Transportation Commission, Transdev and EasyMile.
Please note that the EasyMile vehicle being used in this demonstration project does not contain securement devices necessary to carry passengers in wheelchairs at this time. In addition, it may be necessary at times to suspend operations due to conditions beyond our control. We apologize for any inconvenience.