LAVTA's Shared Autonomous Vehicle (SAV)
The Livermore Amador Valley Transit Authority (LAVTA) has completed the Phase 1 pilot test of its Shared Autonomous Vehicle (SAV). The vehicle has completed a comprehensive testing process and has been certified for use on public streets by the National Highway Traffic Safety Administration (NHSTA). Service to the public started on November 16, 2020 and continued through July 30, 2021.
As it progresses, LAVTA's SAV project will improve mobility by providing first- and last-mile solutions for passengers between the East Dublin/Pleasanton BART Station and nearby locations. The vehicle will operate in mixed traffic and its initial route extends just under one mile and includes two stops and one traffic light. The SAV is state-of-the-art, 100% electric, and comes equipped with camera, sensors, and GPS. Though it is a shared autonomous vehicle, a safety operator will be on board at all times.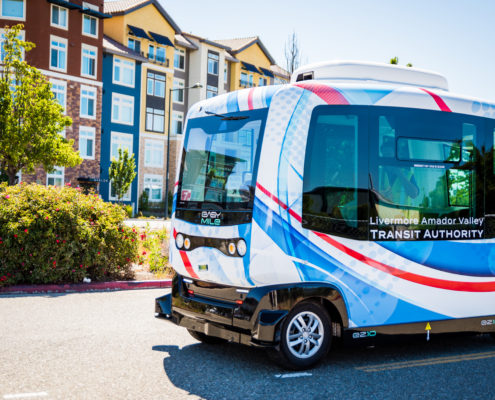 Click here to see a short video about the project.
During the Phase 1 pilot test, the LAVTA SAV served the area around the East Dublin/Pleasanton BART station via the route shown on the map below: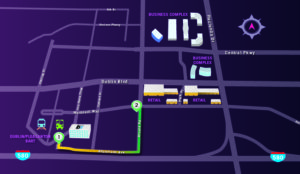 Phase 1 has been a partnership between LAVTA, the City of Dublin, the Bay Area Air Quality Management District, BART, the Metropolitan Transportation Commission, Transdev and EasyMile.