Para-Taxi Information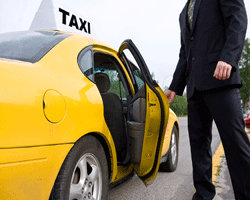 The Wheels Para-Taxi Program is a premium paratransit service, which provides flexible same day transportation service for ADA-certified Wheels Dial-A-Ride riders. Para-Taxi is offered in addition to the Dial-A-Ride paratransit service. You are encouraged to use taxis and TNC's (Transit Network Companies) such as Uber and Lyft for some of the trips you would normally use Dial-A-Ride.
The Para-Taxi Program offers many advantages over Dial-A-Ride, such as same day and direct service. This means you travel on your schedule, not Dial-A-Ride's. You don't have to share the ride, which means you get to your destination faster!
Para-Taxi is great for return trips and the final cost after the reimbursement is often less than a Dial-A-Ride ticket. If you wish to travel with a friend, there is no extra charge.
Para-Taxi is easy to use and with just three easy steps, you'll find it more convenient than ever to get around town.
Pay your taxi driver the full meter fare at the end of your trip, as you would typically do when you use taxi service.
Ask the driver for a receipt at the end of your trip.
Fill out the Reimbursement Request Form  [PDF] form and return it along with your receipt to Wheels to receive reimbursement for a portion of your taxi ride.
For additional information about the Wheels Para Taxi Program, click here to download a copy of the Para-Taxi Brochure [PDF]
Transit Network & Taxi Companies
DeSoto Cab – (925) 777-7777
Yellow Cab – (925) 999-9999
Silver Cab Company – (925) 734-8888