Reservations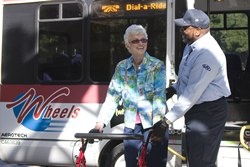 Reservations are taken seven (7) days a week from 8:30am to 5pm. Reservations can be made up to seven (7) days in advance and as late as the day before the ride is needed.
For trips requiring inter-agency transfers: To ensure that we can accommodate the coordination of your transfer trip with another agency, please call by 3pm the day before the transfer trip.
It is best to make reservations as soon as possible to ensure the time and trip desired.
The driver will arrive within the 30 minute pick-up window, which starts at the scheduled pick-up time.
Customers must be ready within five minutes of the vehicles arrival. If a medical appointment takes longer than expected, please notify dispatch immediately to arrange a possible new pick-up time, however, the desired time cannot be guaranteed.
Important Telephone Numbers
Dial-A-Ride Reservations: (925) 455-7510
Hearing impaired using a TTY (California Relay Service): (877) 735-2929
Pleasanton Paratransit Service Reservations: (925) 931-5376