Go Tri-Valley Rideshare Program
Go Tri-Valley is easy to use. We pay half your fare (up to $5) for rideshare trips on Uber and Lyft that start and end in Dublin, Pleasanton, and Livermore.
Here's how it works:
For trips on Uber, download a voucher
Download a voucher here and the discount will be applied automatically to every qualifying trip. Go to your Uber app 'Wallet' then 'Vouchers' and tap on 'GoTriValley' to see more details.
For trips on Lyft, enter a promo code
Go to the 'Payment' section of the app. Tap 'Add Lyft Pass' and enter promo code GOTRIVALLEY. This promo will automatically apply for valid rides! See details by tapping on the 'Go Dublin / Go Tri-Valley' Lyft pass.
More information about the offer
Offer is valid for UberPool and Lyft Line only. 

Wheelchair accessible vehicles are available through Uber WAV. Same discount applies.

Valid for trips anywhere in Dublin, Pleasanton and Livermore. Trips that begin or end outside of those cities are not discounted.
Offer valid anywhere in Dublin, Pleasanton, and Livermore
All trips must be within the city limits of Dublin, Pleasanton, and Livermore, CA. Travel between cities is permitted, but if your pickup or drop-off is outside the boundaries of the three cities in our service area, the discount is not valid.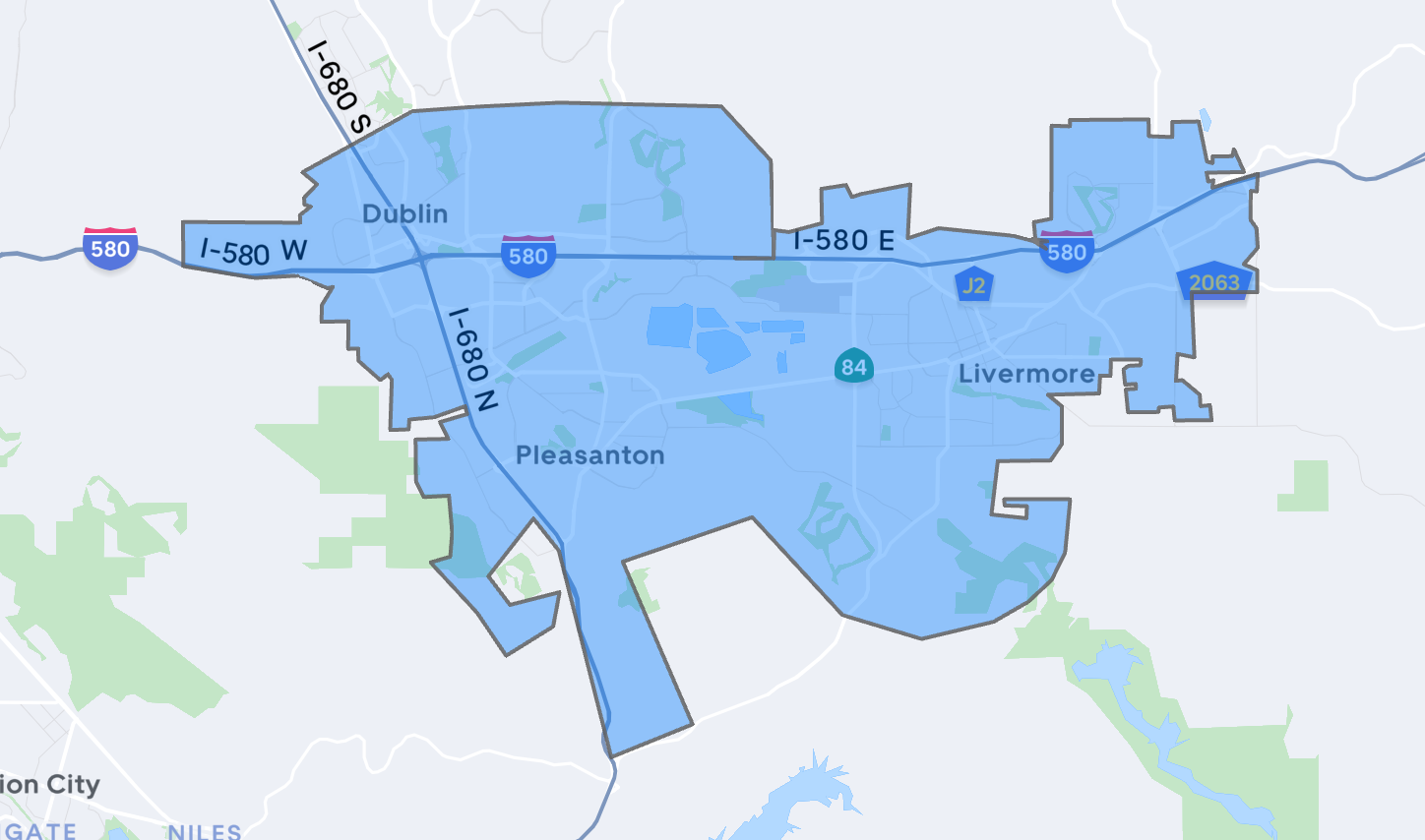 What is Go Tri-Valley?
Go Tri-Valley is a rideshare program through which LAVTA will pay for 50% of your fare, up to $5.00, for rides with our participating partners within the city limits of Dublin, Pleasanton and Livermore, which includes both Tri-Valley BART stations and all three Tri-Valley ACE Stations. A portion of the funding for the program start-up has been provided through a partnership between LAVTA and the Bay Area Air Quality Management District (AQMD).
Who are the participating providers?
The current participating providers are Uber and Lyft.
Do I have a choice whether to use Lyft Line or a regular Lyft ride? UberPOOL or regular Uber ride?
To qualify for the 50% discount, up to $5, you must select the UberPOOL or Lyft Line option when booking your ride (or UberWAV if you utilize a mobility device and need a access ramp on to the vehicle). This helps keep costs low and reduce the number of cars on the road. If you choose a regular Uber or Lyft ride you will be responsible for paying the regular fare.
What can I do if I cannot afford a Smart Phone?
The state of California has a program to assist with the cost of Smart Phones and service. For more information click here.
You can also set up an account with GoGo by calling 855.464.6872 or by visiting their website by clicking here. This service is provided at an additional cost. Mention "Go Tri-Valley" when you book your trip.
What if I do not have a credit or debit card?
Our partners only accepts payment via credit card or debit card with the credit card logo. If you do not have either credit card or debit card, we have found a low to free cost option. Please click here to learn more.
Why did LAVTA create Go Tri-Valley?
Providing transit service in less-populated areas is challenging, and frequent bus service cannot operate efficiently. The program started with a pilot in Dublin called Go Dublin. The program was successful so we have decided to expand the program to our entire service area to give residents another easy, affordable transportation option. The partnership with the AQMD provided a portion of the funding to expand the program.
Is there service for people with disabilities?
Yes, currently Uber offers vehicles that are wheelchair accessible. Choose the UberWAV option.
How do I know using rideshare is safe?
All participating partners offer criminal background checks, DMV checks, vehicle inspections and provide $1 million liability insurance for all drivers and vehicles. In addition, there is a zero-tolerance drug and alcohol policy. Finally, some participants offer a rating system; if you rate a driver less than 3 stars, you will never be matched with that driver again. If you do experience a safety incident, call 911 if necessary, then call the participating partners emergency response line as provided for in their individual phone apps.
Is tipping required?
Tipping is not required. LAVTA does not cover the cost of tips.
What kind of data is shared with LAVTA? Is a user's name attached to this data? Can LAVTA watch their every move?
The data is completely anonymous, so LAVTA will not be able to track where someone is or learn exactly where they've been or are going.
What if I want to go just outside of the service area? Is the discount valid until I'm outside of that area, or do I have to pay for the whole trip?
If you travel outside the service area, you will be responsible for paying the entire fare (Go Tri-Valley promotion will not apply).
How long can I expect to wait for my ride to show up?
Actual wait times depend on how many drivers are currently in the area, but in most cases a ride will arrive within 10 to 15 minutes.
Can anyone use Go Tri-Valley?
Yes, anyone over 18 can use the Go Tri-Valley program. All of the participating providers have 4-doors and accept service animals.
Are booking or services fees included in the Go Tri-Valley discount?
Booking or service fees may not be included in the Go Tri-Valley discount. Please check individual service providers for details.
The "Go Tri-Valley" program merely provides a discount for customers who choose to utilize the services of the participating third party providers. The "Go Tri-Valley" program does not provide a warranty of any kind as to the quality or safety of any of the providers under that program.  All warranties, conditions, representations, indemnities, and guarantees with respect to the content or service and the operation, capacity, speed, functionality, qualifications, or capabilities of the service provided here under, whether express or implied, arising by law, custom, prior oral or written statements, or otherwise, including, but not limited to any warranty of satisfactory quality, merchant ability, fitness for a particular purpose, title and non-infringement, are hereby overridden, excluded, and disclaimed.